Waldfrieden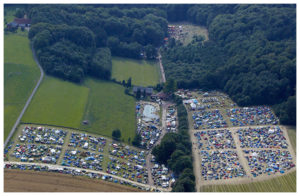 Waldfrieden is located in Stemwede near Osnabrück, Germany. Waldfrieden is german and means forest peace. Goa trance and spiritual events take place here.
The Waldfrieden is mainly known for its annual open air festivals "Wonderland" and "Hai in den Mai". Wonderland was held for the first time in 1997, as one of the oldest Trance festivals in Europe it has grown and evolved for quite some years. There are also smaller partys and other events all year.
It is our desire to limit the damage to nature as much as possible. Therefor bars and benches are built from the birch trees in the forest and flyers or posters are printed on recycled paper. All of our electricity is supplied by renewable energy sources and we ask the food shops to sell organic food only.
Waldfrieden Events