Festival Info / FAQ
Here you can find a lot of useful information for the Hai in den Mai Festival.
Awareness
In Waldfrieden there is no place for racism, sexism, homophobia or any discriminatory behaviour and hateful ideology. This of course also means that nazis are not welcome here. Look out for each other. Those who do not respect these rules are kicked out, for example men who harass women.

Bootschaft / Infobude
If you have any questions or problems, the Infobude and the Bootschaft are your first port of call at Hai in den Mai Festival. You can find the Infobude on the festival area opposite the club, here you will find lots of information, a
wardrobe
and some useful things. The Bootschaft is located near the lake, directly left before the entrance to the festival area. There is also a wardrobe here, you can recharge your mobile phones and you can collect lost and found items. You can also buy merchandise here or have the Waldfrieden logos printed on your clothes at
deep WEAR's
stand next door.
Besides, there are many useful things here, such as:
Tents and sleeping bags
blankets and mattresses
old festival bracelets
Lighters
Stickers
Powerbanks
tent locks
Condoms
Mosquito repellent
Toothbrushes
Waldfrieden Waldfreakquenz Compilation CDs
Free pocket ashtrays
and many more!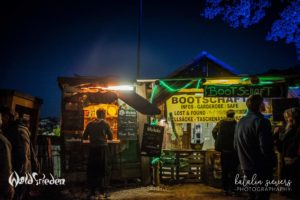 Camping
The campsite is exclusively open to festival visitors. Camping without a valid festival ticket is not possible. You are welcome to arrive and camp with motorhomes, buses and caravans and of course you can also camp next to your car. Keep an eye on your tents and ideally those of your neighbours. Use tent locks, you can buy them at the embassy!
The campsite is a quiet area. If you feel disturbed by the sound systems on the campsite please let your neighbours know. You will be supported by the security if necessary.
It is also possible to reserve a pitch with electricity for your camper/caravan.
The camping areas at this year's Hai in den Mai festival are very limited! We therefore kindly ask you to move as close together as possible when setting up your camps and only use as much space as necessary. Out of fairness to the others, please refrain from setting up a large camp and reserving space for friends who are yet to arrive. Together let's ensure that everyone has enough space and that we don't exhaust the landscape around Waldfrieden.

Contactless payment
The Hai in den Mai Festival uses a contactless payment system. All visitors will receive a festival wristband with an NFC chip when entering the festival grounds, which can be topped up in advance
online
or on site by
cash
or
card payment
.
Remaining credit from the festival can be transferred back to your account up to 2 weeks after the Hai in den Mai. This will be possible here.
A repayment of remaining credit after 22.05.2023 is no longer possible!
Dogs
Dogs are not allowed on the area. Unfortunately we can not allow you to bring your dogs due to spatial conditions of the nature reserve and the animals that live here.

Ecology
We are very serious about ensuring that the environment is harmed as little as possible at our events. We therefore make sure, among other things, that the electricity from our power lines is completely covered by regenerative energy sources and require food shops to use only vegetarian and organically grown food.
In order for the plants and small animals on the grounds to survive the parties and festivals unharmed and to preserve the distinctive landscape of the Waldfrieden, please follow a few rules that should go without saying:
Please dispose of your trash and cigarette butts properly. Garbage bags and pocket ashtrays are available free of charge at the Bootschaft during the festivals. Please use only Dixi toilets and toilet carts and do not go into the forest or run around in the fields for this matter. Let's make sure together that the forest keeps its peace.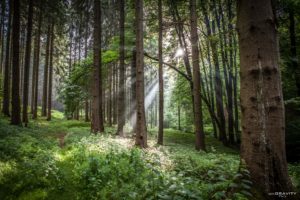 Electricity generators
It is allowed to use electricity generators as long as they don't disturb anyone.
Energy camping
Chilled drinks, mobile phone charging and your own lighting – no problem thanks to your own power supply!
Rent a pitch
(approx. 6 x 8 m) with electricity for the Hai in den Mai Festival today and enjoy the benefits.
We charge the electricity flat rate per pitch. Share the pitch with several people and the 500 watts you get from us. This offer is valid for tents as well as mobile homes for all four festival days incl. support by our electrician.
Please note before booking that the operation of electric heating systems is not possible.
The purchased Energy Camping ticket is valid as an additional ticket to the regular ticket. Of course, you have to buy a normal ticket to visit the festival regardless of this!

Fire / barbecue
Due to the risk of forest fires, open fires in any form (e.g. torches, sky lanterns, campfires, fire bowls, etc.) are strictly prohibited for visitors on the entire grounds. Barbecuing with charcoal is only permitted at the designated, appropriately marked barbecue areas. Only supervised fireplaces organised by the organiser are exempt from this ban, as long as there is no acute danger of forest fire.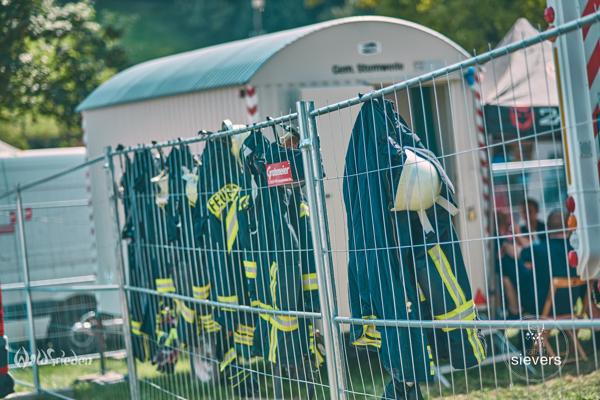 Food
At our festivals there is a diverse selection of food stands. The offer always varies a little, there is usually fried potatoes, pizza, pasta and rice dishes, fries, falafel, burgers and much more to eat. For ecological and ethical reasons we have decided to offer only organic vegetarian and vegan food at the stands! But of course you can bring to the campsite and cook whatever you want. If you want to have a barbecue, you can do so at the designated barbecue areas on the campsite.
Laser pointers, Graffiti & Confetti
Laser pointers must not be taken with you because of the high risk of injury. Graffiti, markers and confetti may not be brought to any of our events! It is simply too much work to get rid of the garbage and paintings. Confetti also causes unnecessary environmental pollution. If you are interested in participating as graffiti artist you are welcome to
apply and contact us
. However, it is not permitted to bring spray cans and markers with you without permission!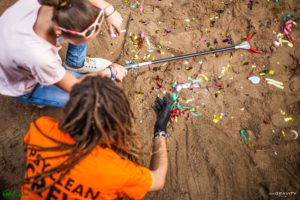 Lost and Found
If you have lost something on the festival please send us a description to
lostandfound@waldfrieden.net
.
During the festival you can ask for lost stuff at the Infobude.

Luggage / What can I bring with me?
You can take as many drinks and food as you like to the camping site. Even glass bottles and cans are allowed on the camping area. On the festival area / infield (where the floors are) only plastic bottles are allowed, no glass bottles or cans!
Please leave fireworks, confetti and graffiti cans completely at home.

Minors
You can only enter the festival if you are over 18 years of age with a valid identity card or passport. Juvenile minors are not allowed on the festival, unless they they are with their parents. Unfortunately we can not provide family camping so we do not recommend you to bring your children!

Photographs
To have enough room for dirty, tired and happy faces on the festival that will not appear on the internet please do not to take pictures of others without permission. There will be professional photographers taking pictures that will be uploaded here. If you appear on a picture against your will let us know and we will remove it.
Apart from the fact that other people may not want to be filmed or photographed by you, you don't do yourself a favor if you want to capture everything on camera. The festival is a good time to put your smartphone aside and take a vacation from the digital world. Keep the good memories in your heart – not on a chip!
Reduced Admission
Hai in den Mai offers the following discounts for visitors:
Wheelchair users and guests who are dependent on an accompanying person because of dissabilites can bring one accompanying person who will get free admission.

Rent your tent / Accommodation
With Utopia Camping, you can rent tents, sleeping bags, camping chairs and more so you will have the most comfortable camping experience.
Rent it here online and get it on site. After booking the equipment online, you will pick up your order at their on-site festival camping shop.
Make your reservation here!

Road toll
In order to keep the car traffic on the site as low as possible, we have to charge
a car toll of 10€ for every vehicle
(no matter if motorbike or caravan) entering the site! The fee is not a one-time fee for the festival, but is due every time you drive through the entrance to the camping site! We have only one single-lane road for several hundred vehicles available. The fee is intended to ensure that not everyone goes shopping in the village with their car, but only when it is really necessary, so that there is no traffic jam and the access and escape routes remain clear.
For each sofa you bring with you, you will have to pay an additional 5€ disposal fee, because in the past we had too many sofas left on the camp site.
Showers / water
There are free cold showers and warm showers for a small charge. There are also many drinking water taps on the festival area. Check the map for the exact locations.

Shuttle
For all rail travellers, there will be free shuttle buses to the Hai in den Mai Festival from the nearby Lemförde and Rahden stations, as always!
The departure times are not exact to the minute, all buses wait for the trains at the respective station. For example, if your train arrives at 20:10 but the shuttle bus leaves at 20:00 according to the timetable, the bus will wait for you, don't worry!
For all rail travellers there will be free shuttles from the nearby stations Lemförde & Rahden Espelkamp to the Hai in den Mai Festival!
(ATTENTION: Due to construction works the RB 71 does not go to Rahden this year, but ends already in Espelkamp, therefore the shuttles that normally go to Rahden go to and from the station to Espelkamp!)
The departure times are not exact to the minute, all buses wait for the trains at the respective station. If, for example, your train arrives at 20:10, but the shuttle bus leaves at 20:00 according to the timetable, the bus will wait for you, don't worry!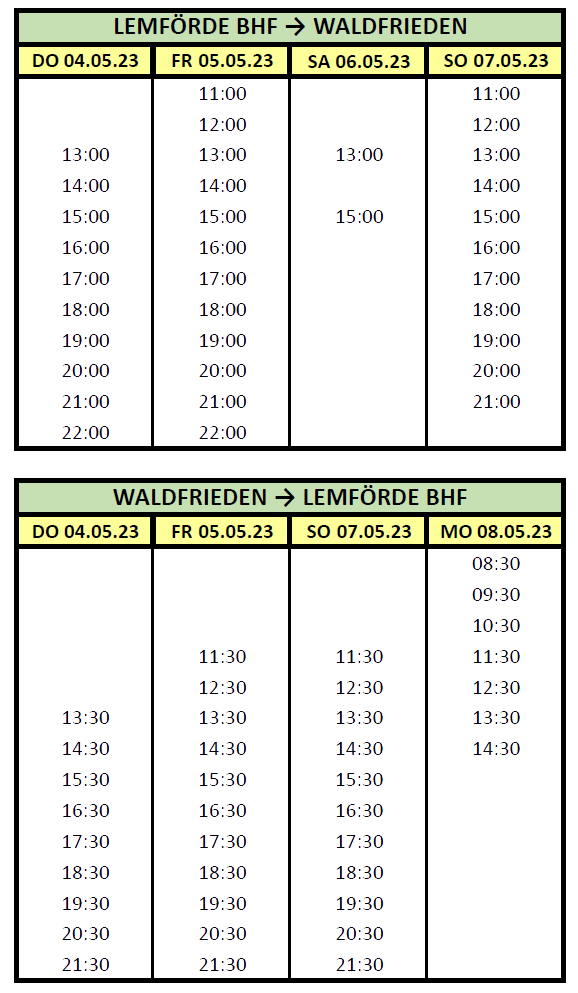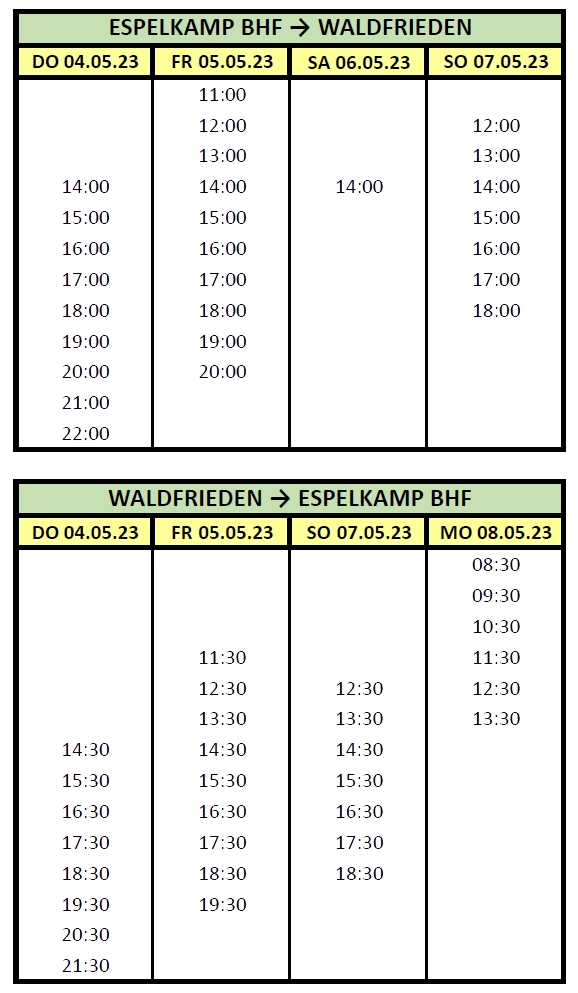 Taxi
Here some numbers of local taxi services:
Stemweder Berg: +495443 99660
Engelbrecht: +495443 8827
Blanke: +495771 2107
Wehrmann: +495474 6310
A ride from Lemförde to Waldfrieden costs about 25 €.
From Rahden to Waldfrieden taxi fee is about 30 €.

Ticket
Tickets are available at the following prices. If you order earlier you pay less, otherwise the tickets don't differ! An additional 5€ trash deposit will be charged per ticket, which you will get back after the festival when you return a filled garbage bag, another additional Euro goes directly to the PsyClean Crew.
| | |
| --- | --- |
| 1. Early Shark Ticket (sold out) | 109€ |
| 2. Shark Ticket (sold out) | 119€ |
| 3. Late Shark Ticket | 129€ |
For people arriving later, the following prices apply at the gate:
Saturday from 11am 105€ + 5€ trash deposit (only if not sold out!)
Sunday from 11am 45€
Personalization
This year, for the first time, all tickets will be personalized. After you have ordered and paid for your ticket, you can enter the name of the person who will use the ticket in the ticket shop under "My Tickets". The name of the ticket can only be changed once. If you have received a ticket and want to check it for validity, you can do so by entering the code here that appears at the top of the ticket next to your name.
Day tickets
There are no day tickets on Thursday, Friday or Saturday. There is only the possibility to get the normal festival ticket on Sunday from 11am for 45€.
Transfer of tickets
The name on a ticket can be changed once. Under "My Tickets" you can get a new ticket with a new name. For a secure resale of tickets we recommend the platform TicketSwap.
Reduction
Wheelchair users with a disability card do not have to pay admission for an accompanying person.
Trash deposit
The ticket price includes a 5€ trash deposit, which you will get back after returning a filled garbage bag at the end of the festival. A deposit token for this can be found on your festival wristband.
The deposit redemption times are as follows:
Sunday from 10 a.m. to 4 p.m.
Monday from 8 a.m. to 12 p.m.